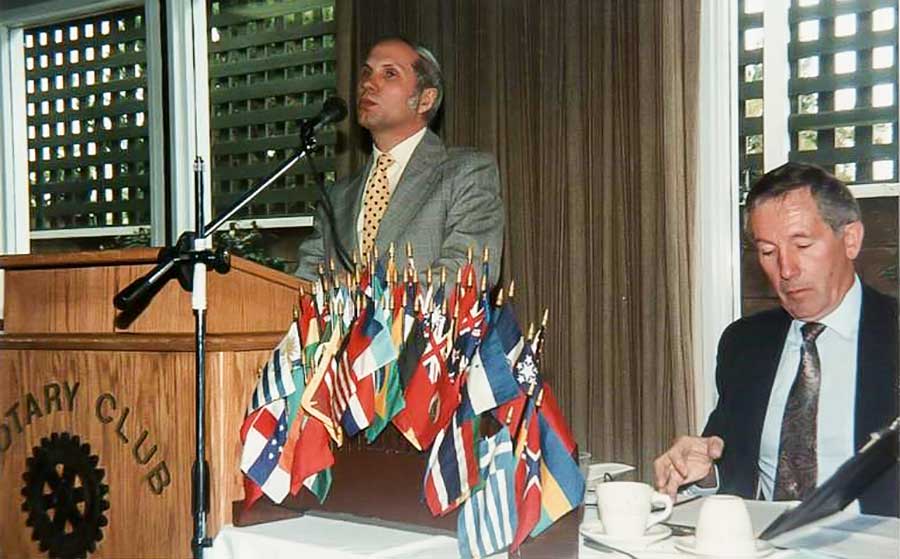 Vladimir Donskoy speaking to our club in 1987 with Denton Palmer

Several longtime members of our club recently funded a Paul Harris Fellow Award to Vladimir Donskoy. Most of our members have never met this extraordinary Rotarian and have little, if any, understanding of how the Rotary Club of Turlock had such a tremendous impact on him and how he had such a subsequent impact on the development of Rotary in Russia.
Vladimir was a professor of English at the State University of Irkutsk in Siberia, when he was selected in 1987 to participate in a 10-week exchange for ten Soviet university instructors by American Field Service (AFS). He stayed in Turlock with a host family and served as a guest lecturer at Turlock High School to become familiar with the American system of secondary education.
Denton Palmer, a member of the Rotary Club of Turlock and superintendent of schools at that time, invited him to one of our club's weekly meetings. Vladimir was immediately fascinated with Rotary, as service clubs and volunteerism were totally unknown in the Soviet Union. He visited our club often during that stay and developed close friendships with several of our members. After his return to Russia he became a co-founder of Rotary in Irkutsk, a sister city of Eugene, Oregon whose Rotarians encouraged them to form a Rotary club.
in 1991, President Dave Muller arranged for our club, along with a grant from District 5220, to provide the funding for Vladimir to again visit Turlock. The purpose of this second 10-week visit was to enable him to become more familiar with Rotary and then help with its growth & development in Russia. While staying with local Rotarians, Vladimir attended dozens of Rotary club meetings and District events throughout Central California. He also observed our board of directors meetings to learn the president's, secretary's and treasurer's responsibilities.
He returned to Russia as its leading expert on Rotary, having developed a better understanding & appreciation of it than most of the longtime Rotarians who had hosted him in California. Shortly after his return he became secretary of his Rotary club — and later president. He also provided assistance and information to other emerging clubs in Russia, including authoring Rotary manuals in the Russian language.
in 1992, with the assistance of Professor Linda Bunney-Sarhad, Vladimir returned to Turlock for a third visit — for the entire academic year as a Fullbright Scholar in Residence at California State University, Stanislaus. His wife and teenage daughter were with him for this yearlong stay. In addition to teaching classes at CSUS, he used this opportunity to further improve his knowledge of Rotary by visiting and speaking to numerous clubs in California and Oregon.
Upon his return to Siberia, Vladimir played an increasing role in the growth and development of Rotary in Russia. From 1993 - 2003 he was designated as the deputy district governor for District 5010 — which at that time included Alaska, The Yukon and all of Eastern Russia. In that role he helped to form and nurture most of the Rotary clubs in Siberia and Eastern Russia.
In 2004 he became the first Russian to serve as a Rotary District Governor. Our members Tom Watling, Bob Janzen & Bob Triebsch, along with their wives, traveled to Anchorage, Alaska in 2005 to visit with Vladimir at his district conference.
Vladimir Donskoy has become one of the best known and most active Rotarians in the world. He has attended and spoken at numerous Rotary events in several different countries. And it all started with a simple invitation from Denton Palmer to attend a weekly meeting of the Rotary Club of Turlock. As Past President Dave Muller is quick to point out, the best investment our club ever made was to arrange and fund his return visit to Turlock in 1991.